To all of yunoka IH cooking heater habitual use
News and request of free repair (parts exchange) of target product
Announcing respectfully
Thank you for usually using our product habitually.
By the way, Hitachi home technical center (existing Hitachi Appliances, Inc.) produced over from 2000 (Heisei 12) to 2001 (Heisei 13), and parts (film condenser) equipped with yunoka IH cooking heater which Kyushu Transformer (existing KYUHEN) sold on noise filter board in "HTW4DA-Y, HTW4SA-Y" broke down, and there was report that we might emit smoke from Hitachi Appliances, Inc. of manufacturer.
As Hitachi Appliances, Inc., we announce press on March 5, 2013 and are going to perform free exchange of parts and give a response that it is similar as us which sold the product.(please confirm the details by http://kadenfan.hitachi.co.jp/ht/index. html.).
Therefore, as we carry out parts exchange in free of charge about the following target product, visitor of errand would like the product concerned to hear to we call center.
Article number of target product
Product model
Production time
Unit sales

HTW4DA-Y
(brand name: yunoka)

2000/10~2001/09

265台

HTW4SA-Y
(brand name: yunoka)
2000/10~2001/09
79台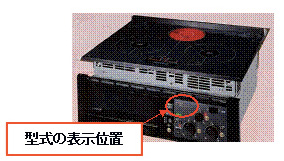 お問合せ先
電話によるお問合せ(通話料無料)
▼温水器
0120-048-500
▼IHクッキングヒーター
0120-911-365
【スタッフによる受付時間】
9:00〜19:00(月~金曜日)
9:00〜17:00(土曜日・弊社指定休日)
【留守番電話による受付時間】
上記時間帯以外・日曜・祝日